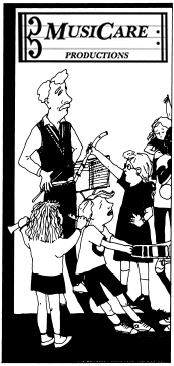 with help from MusiCare Production's….
Take Care! Take Pride!™
A Video Guide to Musical Instrument Care
This complete instructional package is directed to the student musician. Using state of the art Instructional Video Technology, Take Care! Take Pride!™…
Teaches the importance and benefits of properly handling and maintaining student musical instruments.

Provides step by step Video Models of proven assembly and cleaning procedures.

Provides student reference materials or "Care Cards"which help Transfer Learning from the classroom to the home.
Take Care! Take Pride!™ was developed by a team of music professionals with over 100 years combined experience in musical instrument repair and music education. 


The experience and philosophies of Dave Sevy provide the basis for Take Care! Take Pride!™ In addition to his 60 years plus of providing quality instrument repair, Dave Sevy has given numerous clinics and seminars on instrument care throughout the inter-mountain region.
In our experience working with thousands of music students and educators, we have perceived the need for an instructional video teaching students principles of instrument care. We have repeatedly witnessed the benefits which come to music programs and individuals when students learn to…
 Take Care! Take Pride!
™